Dear Customer,
Zebra Technologies Corporation
has validated our DocOrigin ZPL Handler!
 Be sure to come by our booth to see our Oracle Validated form and label solution for EnterpriseOne.
WIN LENOVO YOGA 2 in 1, ULTRALIGHT, ULTRAFLEXIBLE
Includes 1 Design License of DocOrigin $2,500 Value1
1DocOrigin Design License includes one year of Maintenance and Support provided by Eclipse Corporation for design and preview of forms, check, documents or labels. This is not a production license and does not include DocOrigin Merge License for production data. The winner may renew the M&S annually for a fee of $400 per year with a 6% annual increase each year. Lenovo PC is delivered as is and is covered by manufacturers warranties.
We are very excited about expanding our relationship with Zebra and proud to announce the validation of DocOrigin ZPL Handler, a robust tool to design, present and deliver dynamic data-driven labels as well as forms, checks and documents. In production on AIX, Linux, IBM, and Windows servers, the DocOrigin ZPL Handler merges data in all formats to produce single or batch generation of high fidelity documents and labels.
This enterprise-class, software solution provides an easy to use but powerful designer which gives users the power to design static or dynamic labels, forms and documents. DocOrigin ZPL Handler provides a scalable software solution for the most critical business communications. DocOrigin is used by some of the most recognized clients in the world such as AT&T, GE Healthcare, Legal and General America, McKesson Medical Surgical, Pella Corporation, PPG Aerospace and Tyler Technologies just to name a few.
DocOrigin provides the reliability and performance needed to keep Zebra printers running at peak speeds anywhere within an organization at multiple facilities whether it is across the hall or across the globe. DocOrigin is capable of generating tens of thousands of labels per minute even on small servers. With the scalable platforms and multiple instance configurations, DocOrigin can meet the needs of the most demanding customers.
vablet chooses DocOrigin to provide dynamic fillable forms integration and data collection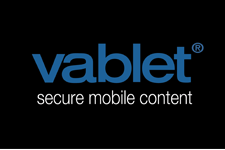 How do you improve a world-renowned, best-in-class mobile sales tool like vablet? You inject it with a little DocOrigin magic, of course!
Continuing its mission to provide the best all-around tool for sales professionals working in the field, Meiotic Inc., the innovative developer of vablet, a best in class business content management solution for mobile devices, has entered a partnership with Eclipse and DocOrigin to provide an intuitive form designer for the creation of dynamic fillable HTML and PDF forms. When combined with vablet, the solution provides on-site, off-line collection of data and signatures in the field.
vablet's customers can now take advantage of dynamic fillable HTML and PDF form functionality – built to expand or collapse the form dynamically displaying only relevant fields and information. It's a perfect fit for mobile devices where screen real estate is in short supply. Forms can be customized to display fields based on check boxes, radio buttons or data entered into preceding fields. This improves the efficiency of the field representative. Quick and accurate data entry is essential to closing a sale.
From collecting contact information at a trade show, to generating orders on the spot after a presentation, to capturing signatures on a contract, DocOrigin's fillable form and data collection technology will allow mobile sales personnel using vablet technology to spend more time selling and less time entering data.
vablet Attends Dreamforce 2016
With more than 2,000 sessions and thousands of live solutions from the world's largest cloud ecosystem, Dreamforce was an important event for businesses and business owners no matter what market segment or company size. The keynotes from Marc Benioff, CEO of Salesforce, as well as Melinda Gates and Mary Barra from General Motors were especially poignant in the face of consistent innovations in the cloud and the challenges every business faces today in digital transformation. Other addresses from household names like Mark Cuban, Tony Robbins, and even Nancy Pelosi filled seats and inspired everyone who attended.
Sincerely,
Jeff Gary,
Eclipse Corporation